You have an important story to tell your customers and it needs to be heard to convert them to action. But it's not connecting because of the din of competitive messages we all compete in. Therefore, in this highly interactive workshop, you will learn the ABT (And, But and Therefore) foundational narrative framework that hacks through the noise and hooks the hearts of your audience every time. Park Howell, and 35+ year branding veteran will arm you with the applied science and bewitchery of business storytelling that was grown brands by as much as 600%. Story on!
Speaker: Park Howell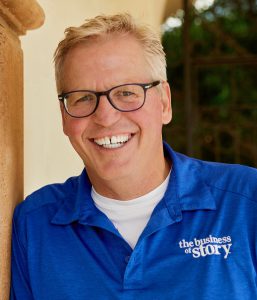 Park is the founder of the Business of Story, a proven platform based on his 10-step Story Cycle SystemTM to clarify your story, amplify your impact and simplify your life. His popular weekly Business of Story podcast is ranked among the top 10 percent of the most downloaded podcasts in the world.His new book, Brand Bewitchery: How to Wield the Story Cycle SystemTM to Craft Spellbinding Stories for Your Brand, helps readers clarify their brand story and teaches how to tell it through three proven narrative frameworks to captivate audiences and convert customers.
Park consults, teaches, coaches and speaks internationally. He has guided hundreds of brands and grown thousands of leaders and their people in such organizations as Dell, Hilton, Cummins, Walgreens, Banner Health and the United States Air Force.
Online registration for this event is closed