Greg will be give us a season preview and Brandon will give us a behind the scenes look at marketing on game day and how they use their marketing assets (tv, social, radio, etc) to boost engagement from all demographics.
Greg Sharpe:  The Voice of Husker Nation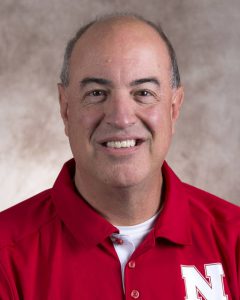 Winner of the 2017 Nebraska Sportscaster of the Year award, Greg Sharpe begins his 12th football season as the Voice of the Huskers. Sharpe is also the lead broadcaster for Husker baseball and hosts Sports Nightly. Sharpe began broadcasting Husker sporting events in the winter of 2003, when he was tabbed to do play-by-play on FoxSports Midwest's broadcasts of Nebraska men's and women's basketball. After filling in on the last three football broadcasts in 2007, he was named the full-time voice of the Huskers in February 2008. Sharpe came to the Husker Sports Network after a successful 21-year run at WIBW Radio and TV in Topeka, Kan, including six years as voice of the K-State Wildcats. Sharpe won two Kansas Sportscaster of the Yearawards at WIBW.
Brandon Meier:   Senior Associate AD – Marketing & Multimedia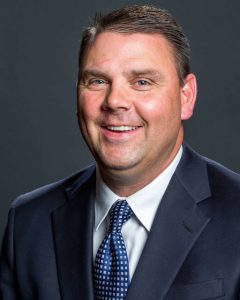 Brandon Meier joined the Nebraska Athletic Department in October of 2018 as the Senior Associate AD for Marketing & Multimedia. Meier oversees Nebraska's HuskerVision, creative & emerging media and marketing & fan experience departments. Meier's knowledge and experience in the field of TV and multimedia production have made him one of the most respected leaders in his field.
A Nebraska native and UNL graduate, Meier returned to Nebraska after working for the Houston Rockets and Oklahoma Sooners. While earning his bachelor's degree from Nebraska he was a student assistant and producer in HuskerVision. Most recently, Meier served as the Associate Athletics Director for Broadcast Operations at Oklahoma. He joined OU's SoonerVision staff in July of 2007 as Executive Director of Video Production.
At Oklahoma, Meier led a media transformation in intercollegiate athletics. During his tenure OU became an industry leader in a variety of areas including TV production, video board production, digital signage and video delivery over a variety of digital platforms. With 17 full-time and 100 part-time employees, many of whom who were students at Oklahoma, Meier oversaw one of the largest broadcast departments in college or professional sports. Among the projects that flourished under Meier's leadership was the creation of the first University-produced TV partnership with FOX Sports. The partnership resulted in more than 2,000 hours of OU content on FOX Linear TV platforms in the first year of Sooner Sports TV in 2012-13. He and his team produced more than 110 live OU sporting events for television in 2013-14, expanding the visibility of the Sooner teams, the access for Sooner fans and giving real-world experience to the many students who work with SoonerVision.
Meier has produced and directed three documentaries on the history of OU football, Birth of a Champion 1895-1946, Legacy of Winning 1947-1963, and Dynasty of Championships 1964-1988. Meier was literally involved in this project from the beginning as he and his staff oversaw the transfer of disintegrating and rare 16mm canisters of film to digital files and then cataloging all the miles and miles of film to produce one of the most comprehensive video archives for one of the top football programs in the country.
Meier's career began in North Platte, Neb., as a photographer/reporter for KNOP-TV, his hometown. Meier earned his bachelor's degree in broadcast journalism and his master's degree in marketing from the University of Nebraska. While studying at Nebraska, Meier worked as a student assistant and producer for HuskerVision, eventually having the opportunity to work with the first video board at an intercollegiate athletics facility when Nebraska installed its first video board in 1995.