A brand is anything that separates one thing or idea from another. Whether it's a logo, design, name, emotion, or those who represent your company, the concept of branding is at the forefront of today's marketing initiatives.
Join us at our June Luncheon to take a look at how some of the biggest organizations approach branding and how it relates to us as business professionals. What can we learn from them to brand ourselves?
Michael will dive into key takeaways such as:
How/why people make emotional decisions first and then intellectualize them

People are brands and have the same brand equities as consumer goods and other branded products

We can change our brand DNA once we fully appreciate and understand it

Building your brand is smart because people pay more for a brand than a product
SPEAKER:
Michael LaBroad, Chief Communications Officer, Burlington Capital Group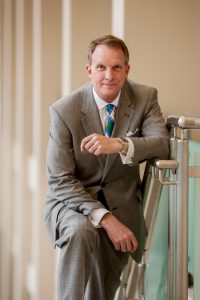 Michael has been consistently ranked as one of America's top marketing and branding experts for over 20 years. He is the only Brand Week honoree to receive their highest award for 3 different brands within three different companies. Michael has successful experience at the highest marketing and branding levels at some of America's most popular and dynamic brands like Budweiser, SeaWorld, Bass Pro Shops, The National Hockey League, Rural Media Group and Burlington Capital.

National corporate presentations, university boards and charity work expands his experience base well beyond the traditional learning sphere of corporate America. He has done confidential consulting for universities, charities, nationally recognized brands, corporate boards and law firms.

Michael is often asked to consult and advise on mergers and acquisitions, innovations, re-branding and upstarts. His success is based upon the foundational understanding that people make emotional decisions first and then intellectualize them. When this is fully comprehended and a plan is built around it, the measurable results will be exponential.

Although Michael has been a thought leader and given credit for many new ideas and innovational approaches, his greatest reward and honor is to be part of a team that understands the issues and challenges a brand faces, develops an affordable and measurable strategic plan and executes it to success.

Michael was raised in Massachusetts and has lived across the country primarily in the Midwest.
Featured Lunch:
Open Faced Monte Cristo
Vegetarian Option – Vegetarian Hash Brown Cups with Fresh Fruit