Any of this sound familiar? You have a podcast and you're spending more time trying to get it produced than working on the content.  You want to have a podcast but don't know where to begin. You've heard of podcasting but don't know how it could possibly work for you. What is a podcast? Parkville Media is a podcast and audio content production company and we'll be answering those questions, and more, about the medium that gives you a direct connection with your audience to tell your story in your voice!
Speakers and facilitators: 
Pat Safford and Jill Thomas, Co-Founders of Parkville Media
Known to most as "Pat and JT", their morning radio show was on in the Omaha market for nearly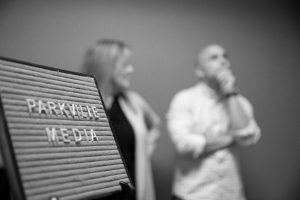 20 years.  in 2019, they jumped on the rising wave of podcasting! The mix of current events, personal stories and community promotion they were known for on the radio continues today on their podcast, "It's Pat and JT" … available where you listen to your favorite podcasts … Apple podcasts, Stitcher, Google Podcast, TuneIn, YouTube, Spotify.
Light Snacks Will Be Provided
Sponsored by: