Let's Hear it for Little Data
We can all agree that data is good, right? It's helpful. Especially as communicators, it helps us see if what we're doing is connecting. If data is good, then big data must be great, right? It is. It's great. I like little data too. Big data are large-scale trends, projections, business. Little data is the personal anecdote that gives you perspective that what you're doing is connecting. Big data is organizational and corporate. Little data is human. Little data is Paula.
Let me back up a little bit first.
At the point when it was clear that the pandemic would create significant disruptions in everything we did, the leadership team at Nebraska Medicine agreed it was time for more communication within the organization. We had been regularly sharing updates about our role in the early stages of the COVID-19 response via email and in our daily e-newsletter. Our experts were partnering with federal health officials to quarantine and monitor dozens of Americans brought back to the states from overseas. Our infectious disease experts were regular interview subjects in national news. But even with that high profile, with that level of attention, the virus had not fully landed on many of our colleagues not directly involved with that early quarantine effort. They knew what was happening, but as far as personal impact, there was still separation.
One of the centerpieces of our internal communications efforts over the years has been the forum. It's essentially a town hall meeting led by the CEO. Rows of chairs in a big meeting room, a podium, a mic. There's a template and topics and questions and answers. While it may not be a cutting-edge tactic, it's a known commodity and pretty effective. Back in the days when people met in rooms, we'd get one-to-two hundred people to come in person to listen to the presentation and ask questions of the leadership team. A few hundred more would watch online via Zoom webinar. For the regularly scheduled March forum, we encouraged people to join remotely. Speakers still gathered in the familiar meeting room, but the room itself had only a couple dozen well-spaced attendees. One minute after beginning the meeting, all of the Zoom contact functions lit up, as did my phone. People couldn't get in – we hit our limit of 1000 people on the webinar.
At the conclusion of that meeting, we decided two things: we need more webinar capacity; and we need to do this every week. It's valuable. People are listening and they deserve to have the latest information.
We invested in greater Zoom capacity and changed the format. Each presenter joins from their own office. This week will be week number ten of our weekly forum. Each Thursday morning, our executive team joins leaders from our infectious diseases, lab and pandemic response leaders to spend 90 minutes briefing and answering questions from employees and physicians. Attendance has ranged from 1700 to 2500 people. We also held a special evening Q&A town hall especially for our employees and their families. About 500 people (maybe more, since we expect some were watching as a family) joined that one. We'd be hard-pressed to get to all the questions we receive in the week leading up and during the events themselves. The number of attendees and quality and quantity of questions is a pretty good measure of the engagement.
So what about that BIG data?
Turns out we were on to something. The Edelman Trust Barometer Special Report shows people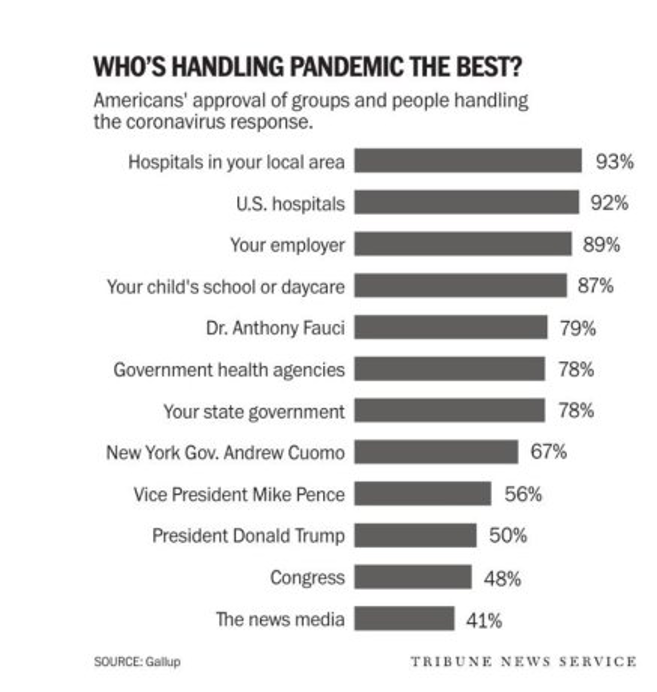 trust the communications they receive from their employer far more than what they hear from the government or the news media. And it isn't close. Zoom in on one key figure in that international report: "my employer" was far and away the most trusted source. People want information. Your colleagues are thirsty for relevant information – the stuff that affects them professionally and personally. More than ever, they're looking to us to provide some of it. The Edelman report sums it up very nicely: "This is a considerable new responsibility for the corporate sector…"
Responsibility is the right word. Internal communications is more important than ever. It can be time-consuming, yes. It can also have a straight line to business strategy and employee engagement. Take this excerpt from a report from the Institute for Public Relations: "The pandemic is leading executives to realize that companies can't grow, prosper or even survive without a knowledgeable, engaged and aware workforce. We are finding that internal communications is evolving to a new level…"
So that's what the "big data" is telling us. What about that little data? Right after last week's forum ended, I received an email out of the blue from a fellow employee. Paula wrote to tell me exactly what the Trust Barometer said: she finds herself skipping the usual mass communication channels and relies on the Thursday morning forum as a central source of truth. This is more of her message (shared with her permission):
"The weekly meeting on COVID makes me feel fortunate to work at Nebraska Medicine. I respect leadership taking time out of their busy workday to inform employees about COVID and keep us up to date on what is taking place in Nebraska and Nebraska Medicine. For me it really puts everything in perspective, this has increased my respect for Nebraska Medicine doing what is best for humanity."
That message made my week. Nothing like some Little Data to prove communications are making a big impact.