AMA Omaha Cares Initiative
2020-2021 AMA Omaha Cares Partner Coming Soon!
ABOUT AMA CARES 
Each year, AMA Omaha gives back to our community through our AMA Omaha Cares Initiative. We adopt a local charity partner for the board year and offer that organization marketing support, fundraising and more. AMA Omaha is committed to bringing positivity and change to our community. We believe in making an impact, connecting to others and improving the lives around us.
PREVIOUS PARTNERS 
2019-2020: The Heart Ministry Center
The HMC mission is to provide food, clothing, healthcare and a way forward to people severely affected by poverty in the Omaha area.
In February 202o, AMA Omaha partnered up with  ROAST – Aksarben/A Hill of Beans Coffee Roasters to support HMC during a Valentine's Pot Pack sale! We are thankful for valuable community partners like these who support the Center and help us spread the word of our mission – #DignityForAll.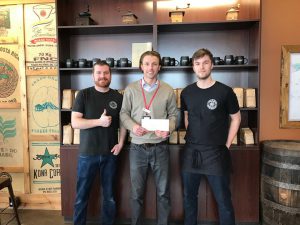 AMA Omaha tours the construction of the new HMC Food Pantry