Join Today!
Welcome to the Omaha Chapter of the American Marketing Association, your source for marketing knowledge, resources and networking! Our chapter is made up of marketing professionals and decision-makers from around the metro, with experience and expertise in everything you can imagine – branding, sales, digital, content generation, social media, metrics, design, public relations, and more.
Become a member of the essential community for marketers and enjoy both local AND national perks, including:
Discounted Local Events. Members receive a significant discount (up to 40%!) on all local AMA Omaha programs, including our Power Lunch and Marketers' Meetup series. The AMA Omaha online Workshops series is also FREE to AMA Omaha members. AMA Omaha members also enjoy discounts on the OnBrand Conference.
First-Look Local Access. Members receive advance access to register for AMA Omaha events, as well as early access to drops of AMP, the AMA Omaha podcast. Be a member, be the first to know!
Reduced Award Entry Fees. As a results-based competition, the AMA Omaha Pinnacle Awards offer the recognition your work deserves. Members receive exclusive discounts on both entry fees and tickets to our celebration gala.
Innovative Resources & Marketers Toolkit. Free webinars, podcasts, and the AMA Marketer's Toolkit; full of interactive templates, tools and more!
Professional Certification. Reinforce your expertise and solidify your resume with a world-renowned certification. AMA members receive 30% off the Professional Certified Marketer (PCM) Program. AMA Omaha also offers the PCM Perks! grant program, allowing members to apply for additional savings!
Conferences & Training. Members receive discounts on national AMA events where thought leaders across industries share their insights; including AMA conferences, training series and boot-camp events.
Discounts on Promotional Products. The AMA Shop in partnership with Consolidus offers members exclusive discounts on the latest swag, plus free shipping for AMA Omaha members!
Sharpen Your Skills. Volunteer on a committee to expand your marketing network and knowledge while boosting your visibility, credibility and skill-set.
An office away from home. When AMA members travel to Chicago, they can use work spaces at the AMA Global Support Center to stay connected to their work back home.
View our brochure: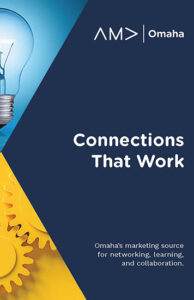 AMA Omaha Membership